Kolam A very Beautiful Art Work Of South India
Kolam a very beautiful art of women ,related to Brahmin Culture ,which originated in South India more than 3000 years ago.Kolam is a symbol of Beauty and a welcoming Enviornment in every Brahmin families all over India ,particularly in Tamilnadu,and some parts of Trivandrum ,Thrissur,and Kozhikode ,in Kerala.
Our Brahmin women begins their day with this creative art in front of our Homes and decorates with simple and also very beautiful designs of kolam's by using Rice flour or Limestone powder.Rice flour is pinched between the thumb and finger and rubbed together while moving the hand continuously to creat good designs .
In our earlier days it was compulsary for Brahmin girls to learn this art form.Our old members were aware of importance of this art and they helped to develop the skills to youngsters.
Drawing kolam's also helps to improve mental discipline and concentration besides providing an oppertunity for solving our day to day problems to be faced in our life.There are different types of Kolam's.The kolam's are referred as "Rangoli" in North India,which are very colourful. While in South India it is mainly known as Pulli Kolam's or Neli Kolam's.
Pulli means Dots. Neli means Curvy.
It is belived that the "Dots" are symbolic of Challenges which we have to face in our lives and the "Curvy" ,line around these Dots is the jouney (Yathra ),during our life.
This art form is attracted Foreigners also.A Lot of concentration and Practise is necessary to develop this art.Now Kolam contests are also very popular in some parts of Kerala among Brahmins. In Tamilnadu,During the Month of December,January, (The Tamil Month,Markazhi )the large decorative Kolam's were drawn in front of homes.
Here are some attractive and simple drawings of Kolam's..


Kolam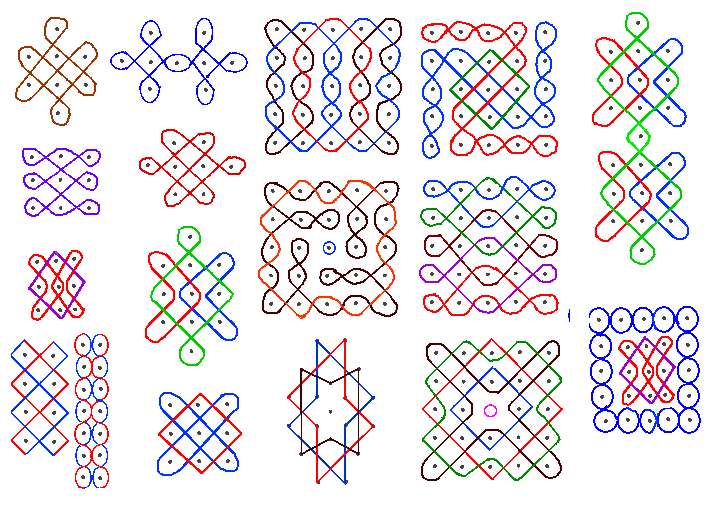 ********The author*********
K.Ananda Ram,Retd.Manager,( S B T ),
Geethanjali,Parippu.P.O,Kottayam-24.
Ph.2516486 (Code.0481 ),
Mob.9447660792